The Classy Alcoholic's Bear Adventure at THAT Brewery in Pine
We had a good chuckle at The Classy Alcoholic's review of his visit to THAT Brewery in Pine…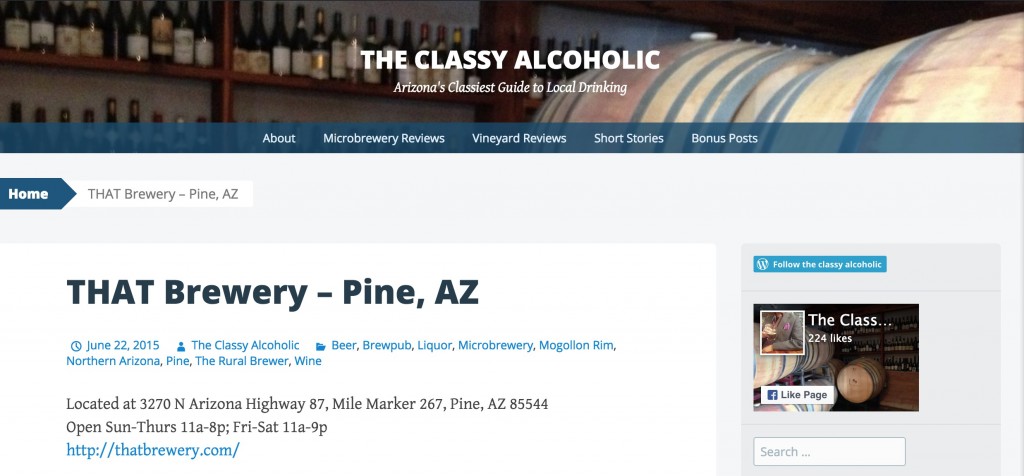 His goal is to visit and review every brewery and winery in Arizona, and apparently to wear a tie to each visit.
If you make it out to THAT be sure to come hungry because this place has an extensive menu that offers burgers, sandwiches and pizza. If you're in the mood, you can get either a Blackened Salmon or Sriracha BBQ Chicken pizza. But if you want something a little more exciting then you can get an Elk & Buffalo Burger with some Elk & Buffalo Chili on the side.

THAT served their flight in a muffin tin which was totally awesome. Their two lightest beers were the Strawberry Blonde, which had only the slightest hint of strawberry flavor (just enough to make it delicious without it being overly fruity) and the Backwoods Blonde which had strong, hoppy undertones that distinguished it from other light beers. The Amber beer had a delicious combination of toasty malt and nutty flavors which made this beer the standout of THAT's brews.
Apparently when Mr Classy went out on the patio, he had a run in with a philosophical black bear who shared his beers and gave Mr Classy a bit of a wake up call on the virtues of the Rim Country (we leave it to the reader's judgment as to the verifiability of the story, but it is fun).
Once you've seen every microbrewery in the state Mr Classy, come on back to Pine. We got a spot for you and some new brews to fill your muffin tins.