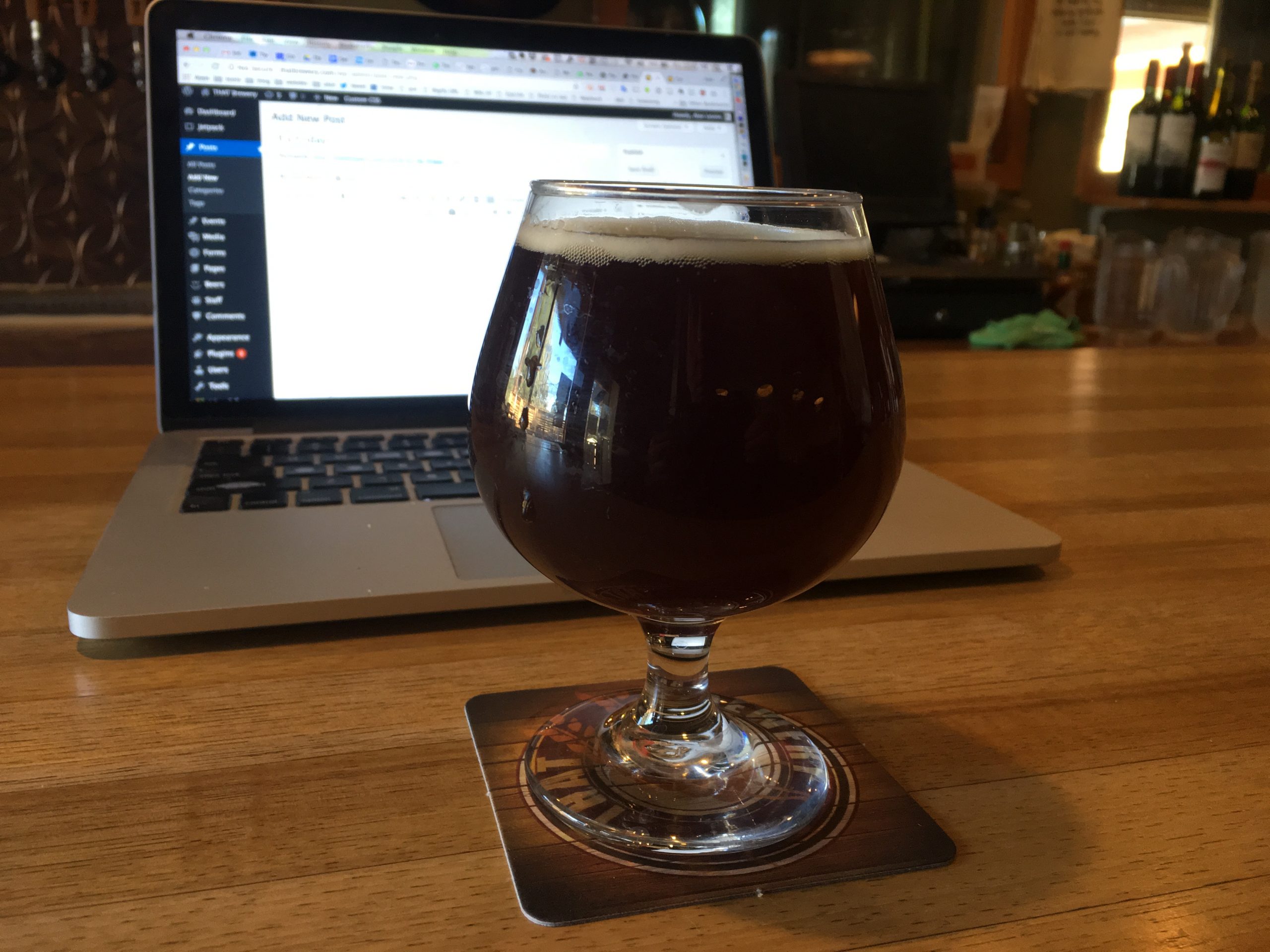 It's time for another Blogging from the Bar post… and lunch! I'm hungry. The menu at the Pine Pub and Brewery has been updated, check it out.
One of my favorites, THAT Belgian style Abby.Today I'm drinking one of my favorites, the seasonal Abby. I remember the first winter Steve brewed it here; there was a power outage in a winter storm (do you remember when it would snow here in winter? I do) and it got an extra hour in the fermenter. That was one strong Storm Brew Abby.
The Abby is still good today, even without snow. It's got a strength and warmth that goes down smooth, warm winter or not.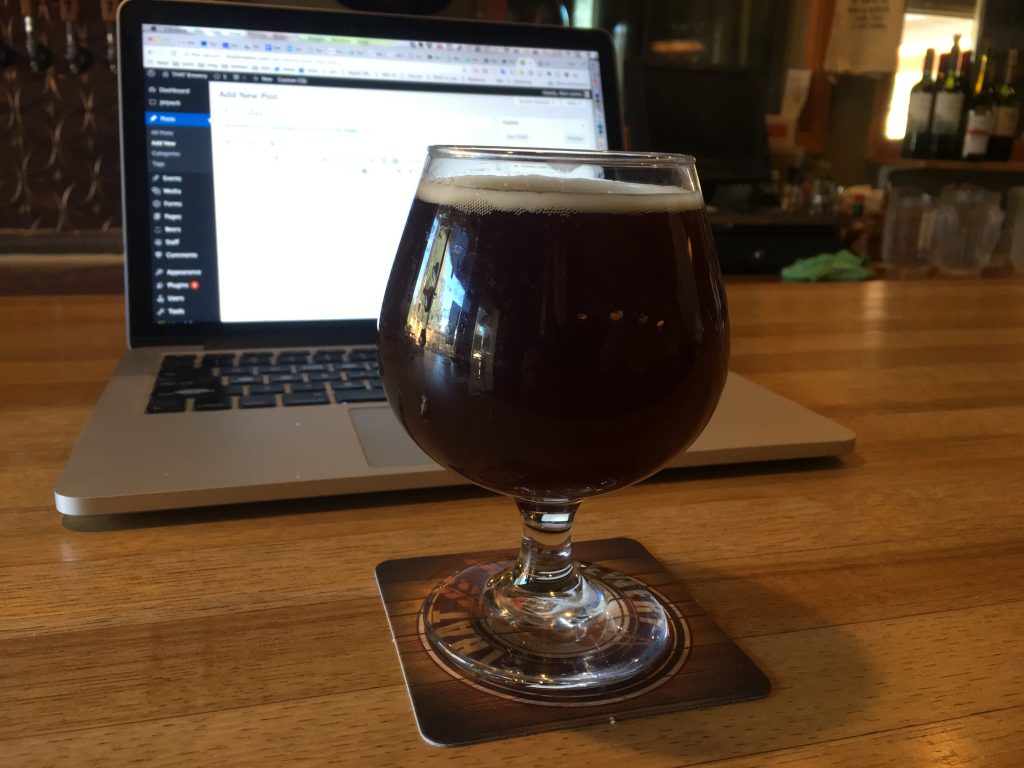 Down the bar is the couple I  met in my last bar blogging visit. They came back… we were both unsure if it was two weeks ago; Tammy and Mitch from Payson are back for lunch too. They are talking up the ribs they are planning to smoke tonight. It's making me hungry.
Tammy told me she tried the bruschetta for lunch, a new item on the menu.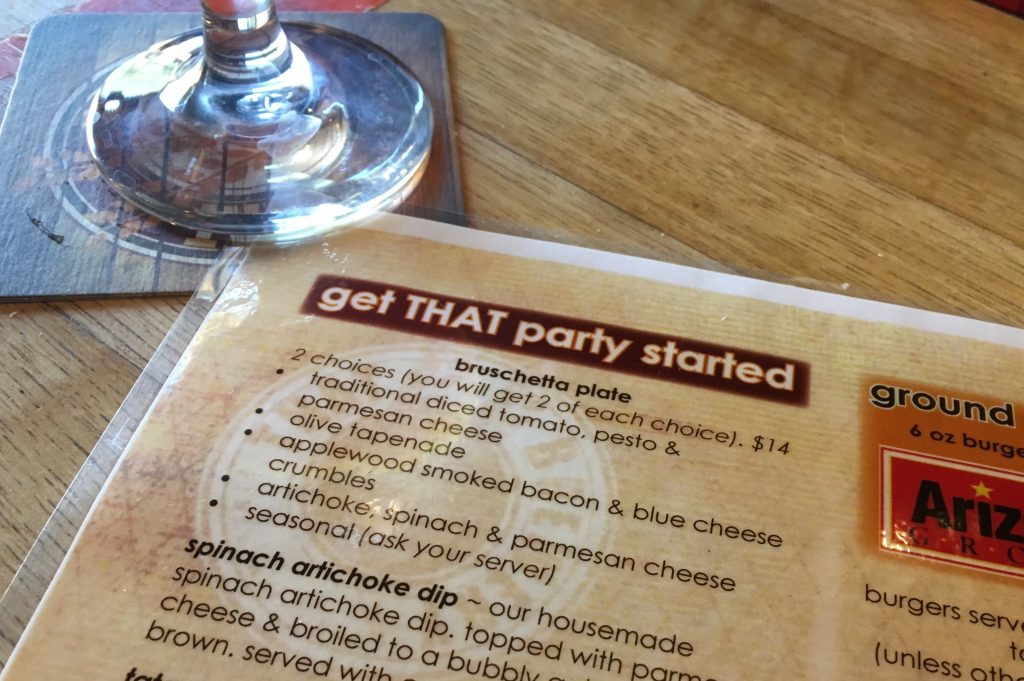 Tammy strongly recommend it. She says the balsamic glaze is very nice, but the applewood bacon and blue cheese crumbles push it over the top (insert much more earnest conversation about how bacon goes well on everything, even cherry pie).
So I have to try it, and I order the bruschetta plate with the options:   (1) applewood bacon & blue cheese crumbles (because Tammy told em to); and (2) artichoke, spinach & parmesan cheese. Ordering is a lot of fun, because you get to customize your plate.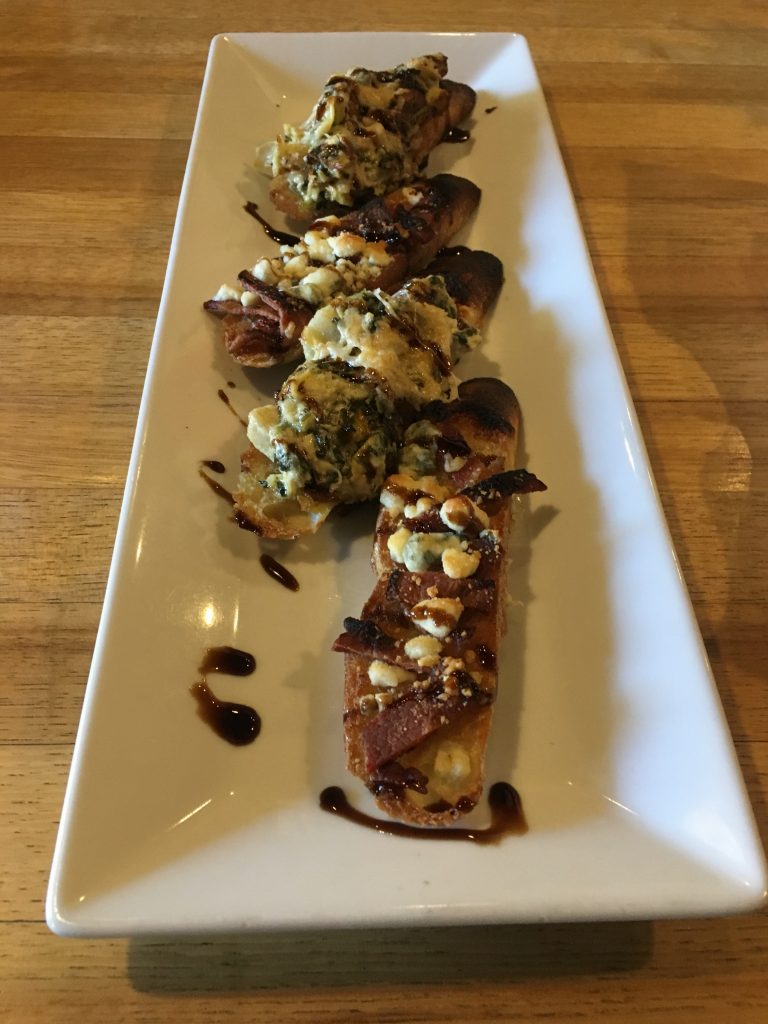 Wow, listen to Tammy. The flavor is deep and rich, and yes, like The Dude knows, the balsamic glaze ties the whole plate together. And I am not even that crazy about balsamic flavor. Until now.
Tammy's partner Mitch says the clam chowder needs more potatoes, smiling at his  sarcastic remark about the irony of potatoes swimming in an ocean of clams. He loves the chowder. I remember he had it last time here.  "This is the best!" he says. Tammy says "It's his religion, clam chowder." If you have t believe in something, have faith in good clam chowder.
Steve and Tamara stop by to say hello. They are in a hurry to go down to the Valley for the full on Arizona Beer Week. Tonight they are one of six breweries pouring beer for 300 guests at the VIP event at Valley Bar on Central.  Among their pours tonight is the THAT Abby the one that is in my glass right now.
Tomorrow they are on hand for the Arizona Beer Week's Strong Beer Festival.  As the crowds show up for what is advertised, THAT Brewery is serving up their strong ones, including a first tap of a Barrel Aged Sour Wild Strawberry that Steve describes as "Freaking awesome" (that's not a technical term!).
He says that the barrel fermented beers he and John are crafting at THAT Brewery in Cottonwood have been immensely popular. Also being served by THAT Brewery at the Strong Beer Festival is a barrel aged Dirty Verde IPA,  a New England style IPA ("dirty" because the color is hazy). Plus there is a new Malbec barrel aged stout flavored with coffee beans from Green Valley Coffee Roasting in Camp Verde. And among THAT strong lineup at the festival, you can taste the Russian Imperial Stout.  Tamara says that after all those strong beers (and in the Valley heat) the crowds really dig a refreshing break with THAT Strawberry Blonde.
So if you are in the Valley make plans this weekend to check out theArizona Beer Week's Strong Beer Festival. Be sure to stop by THAT Brewery's stand to say hello. And to taste THAT beer.
"Is this a brewery?" asks a guy with coveralls walking into the bar. "In the middle of the desert?"
Yes to both. He seems pleased.
I am too, especially topping off the bruschetta plate with my personal favorite– the wings. I love me some of THAT Brewery's wings.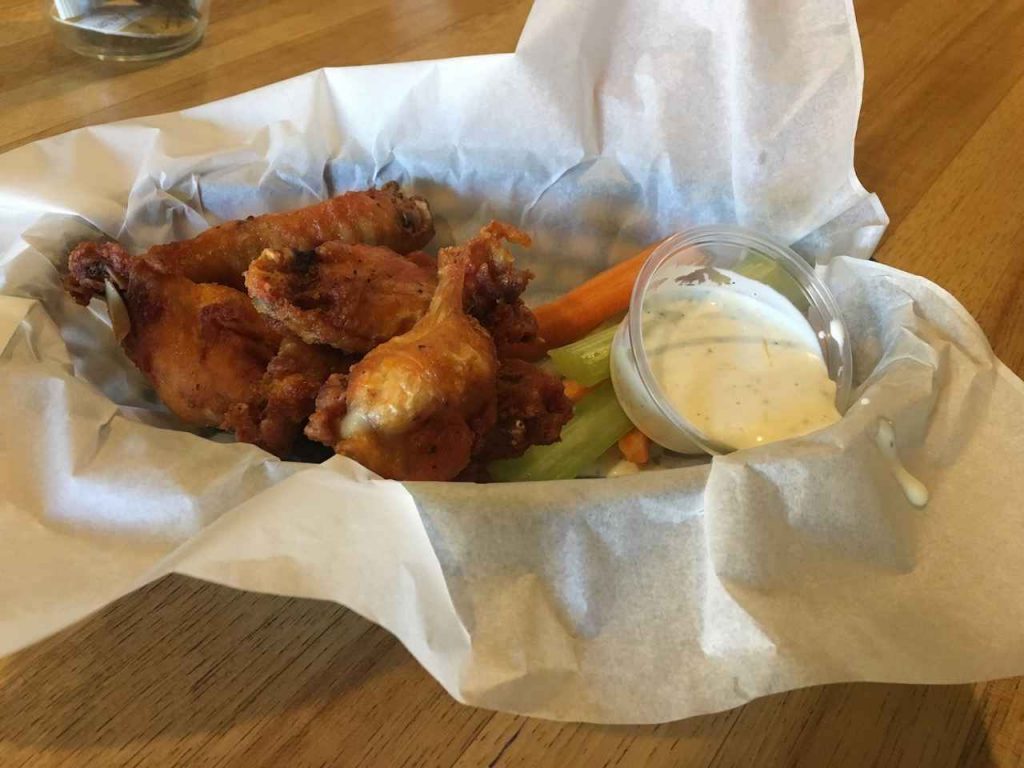 Two dudes coming in looking to drink a Bud… Kelly tells them "Hey this is a brewery" and they serve  only Bud Light and Coors Light. She tries to win them over with a sample of the Backwoods Blonde.  They appreciate the offer, but are pretty adamant about their brand. So Bud Light it is. They seem okay, and then they decide to order a t-shirt.
Everyone is happy here.
Be sure to come out Monday night for the next open mic night at the Brewery in Pine.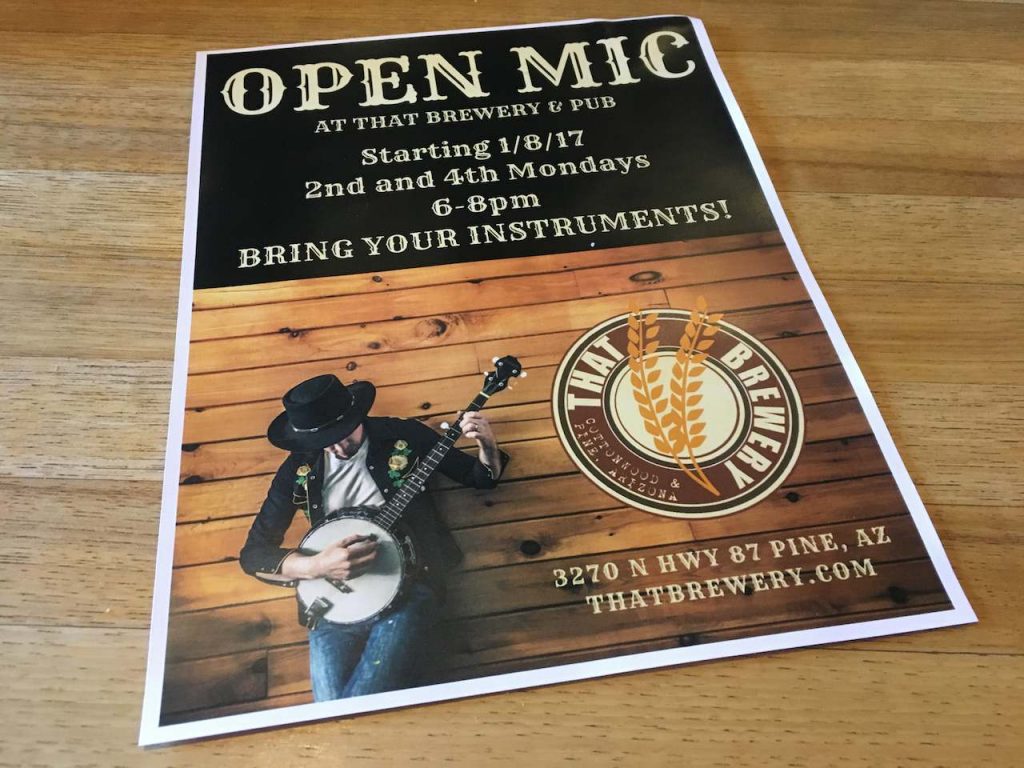 We did a podcast recently with Tom Stenerson that gives you all the info that should make you want to enjoy an evening with local musicians who step up to the mic.
Until the next lunch, in two weeks, enjoy more great faux-winter weather in Rim Country.  And enjoy good food and beer at THAt Brewery.