THAT Lunch for Last Friday in January 2018
First music I hear on the sound system is Free's "Alright Now" and then AC/DC doing "Dirty Deeds Done Dirt Cheap". So I say to Kelly, "You're playing all my music".
"That's right, we knew you are coming."
I'm back at the bar at THAT Brewery and Pub in Pine to eat lunch, enjoy a beer (today it's THAT Amber, an old friend), and publish another Blogging at the Bar post.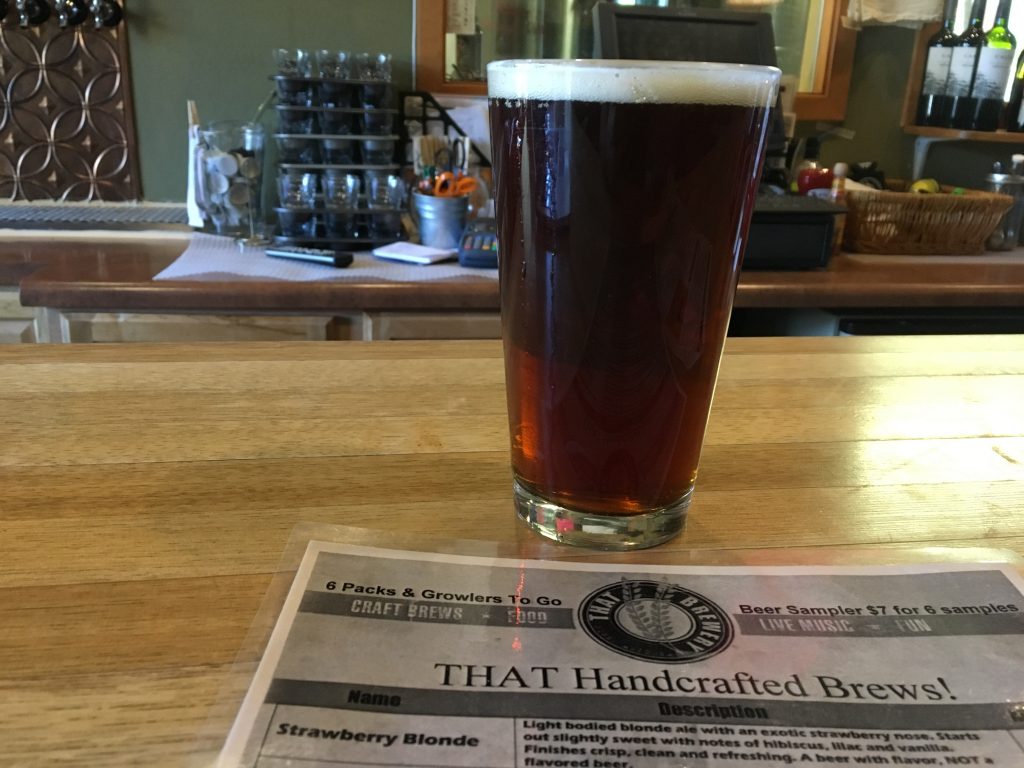 There's a steady flow of people at the bar with the same thought in mind? A gentleman pays his check, and asks the bartender for her name. Kelly replies and she asks his name with a friendly "Welcome to the community."
I always love soup, so it did not take much prodding to order a bowl of the clam chowder soup. Kelly insisted I should put some Cholula sauce into it.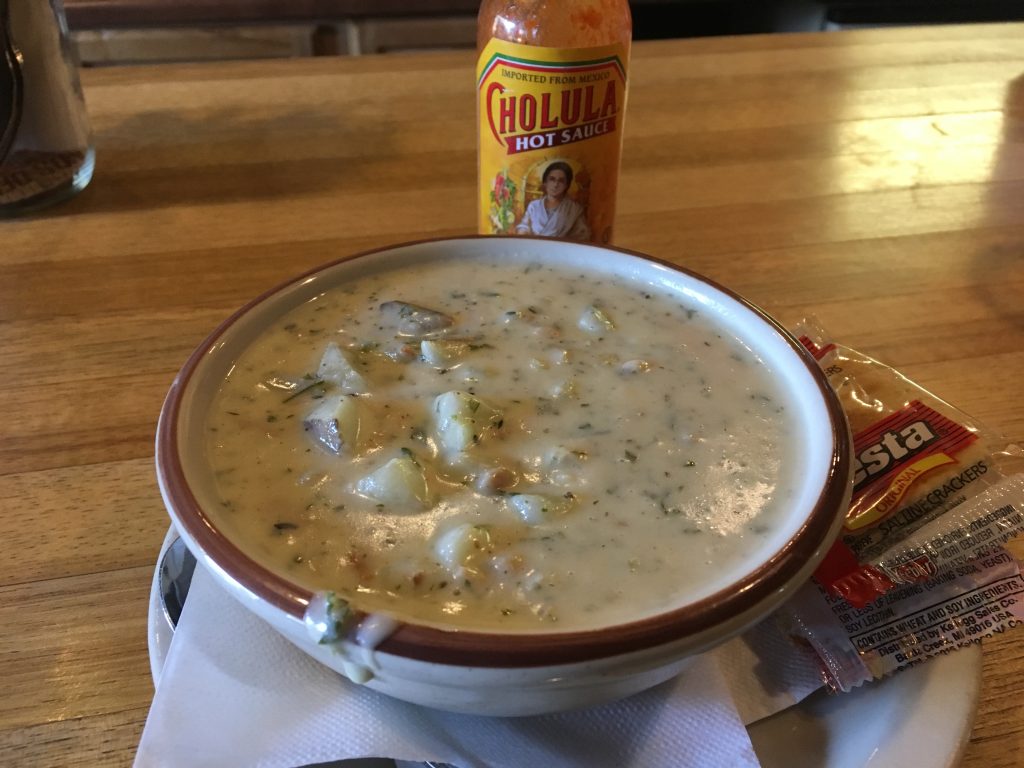 Always listen to Kelly. She is wise.
The soup is good and hearty. It's a comebacker.
It's another blue sky sunny "I should be out hiking" kind of day in Rim country. We still have remnants of the first real snow fall of the season, but the quick melt is on. My hike yesterday in the forest near Strawberry was a mud blog slog. I brought home a pound of mud on each boot.
Today for lunch I will be stretching my palette. I am definitely a meat kind of guy, and the burgers at THAt Brewery are always a winner with my tummy. But in the last podcast I recorded with Tamara, she mentioned the Portabella Mushroom burger, and I thought, why not?
I like mushrooms (usually sauteed in butter and onions served atop my steak). But what's life without a few diversions from the usual?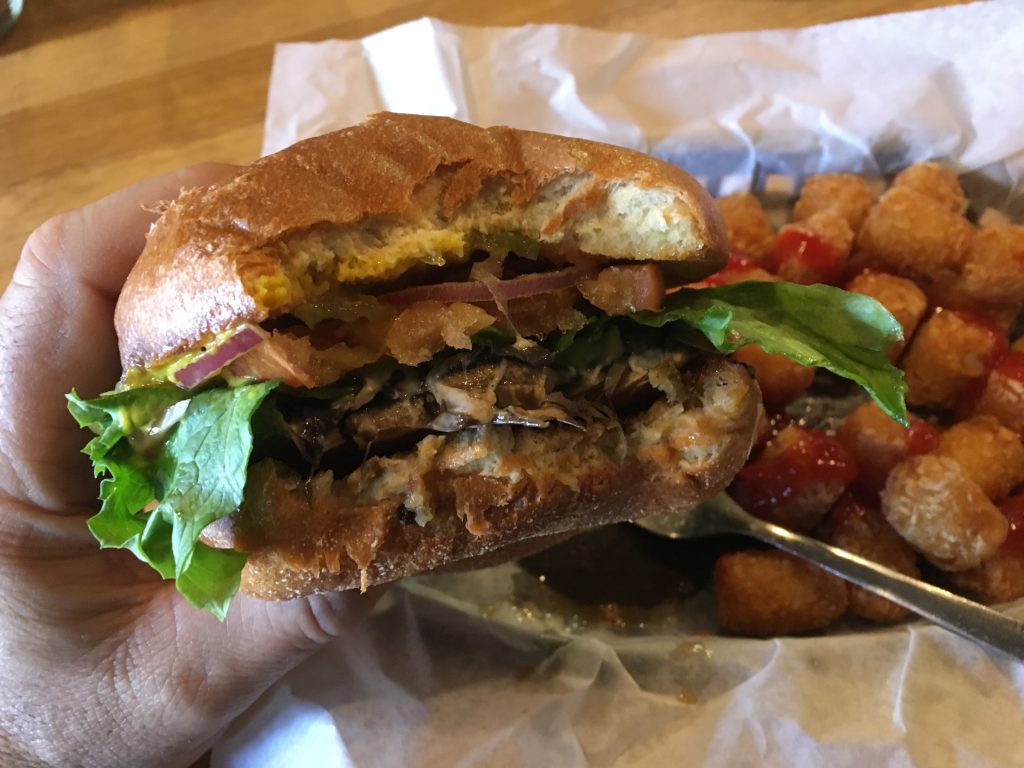 The couple next to me is impressed with the height of the burger… It has the feel and taste feel of a burger! Totally. I'm not quite ready to give up my beef, but I can give a big thumbs up.
"This is the best clam chowder I've ever had" says a couple from Payson. "And they have wine, how many breweries offer decent wine?" They are rather happy with the scene here.
Now I am interrupted by two friends in from working on the local trails. They are both drinking the Fossil Creek IPA. Mike likes it.
The lady next to me says the Strawberry Blonde is a chick drink. "Wait a minute, I like it."
She says, "I rest my case."
I think I got sauced. Now they are recommending the Abby, the Blonde, and all their friends, who are into crafts.
"Did you know that 86% of all facts are made up?' I'm not sure where this conversation is going.
Mike is on to them, asking what they do, trying to get them to sponsor for the Fire on the Rim Bike Race. If you have ever been quietly minding your own business nursing your beer and this friendly guy starts talking about the forest, and trails, and the bike race. Next thing you know you are out on a Saturday doing trail work.
That's how I got into the group. A Mike Brandt encounter.
it's getting rather noisy and crowded in the pub. It must be a Friday. The last one in January. A good one to be at THAT Brewery.