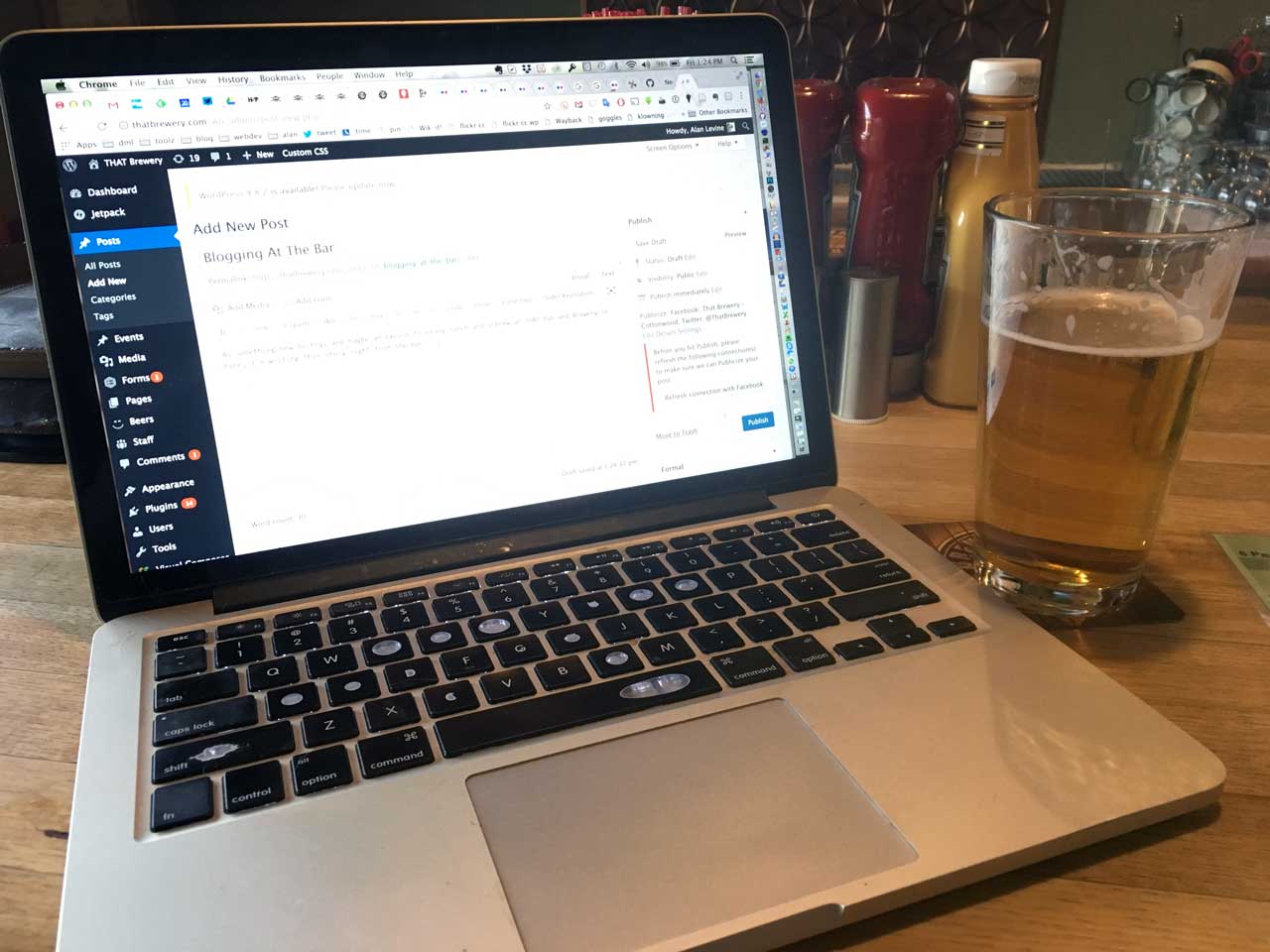 As something new to try, and maybe an excuse to enjoy lunch and a brew at THAT Pub and Brewery in Pine, I'm writing this story right from the bar.
It's a sunny gorgeous day in Rim Country (as most are), the kind where one is tempted to spend the afternoon hiking. It's but me and one dude at the bar, a few tables inside enjoying lunch and more outside. It's a good time of year to be out on the patio.
I'm also on a mission here to get more actual photos of THAT's craft beers for the Brews directory (I admit using a few of the same photos over again) (I guess it's not too bad a job to have to take photos of beer).
So to add real beer photos to the collection, today's picture is of the Perle Light a seasonal beer that's been on the list a few years, but I seem to never had ordered it.
That had to change today (this is the "unofficial" one taken with the phone, the portrait photos are taken with the Big Camera).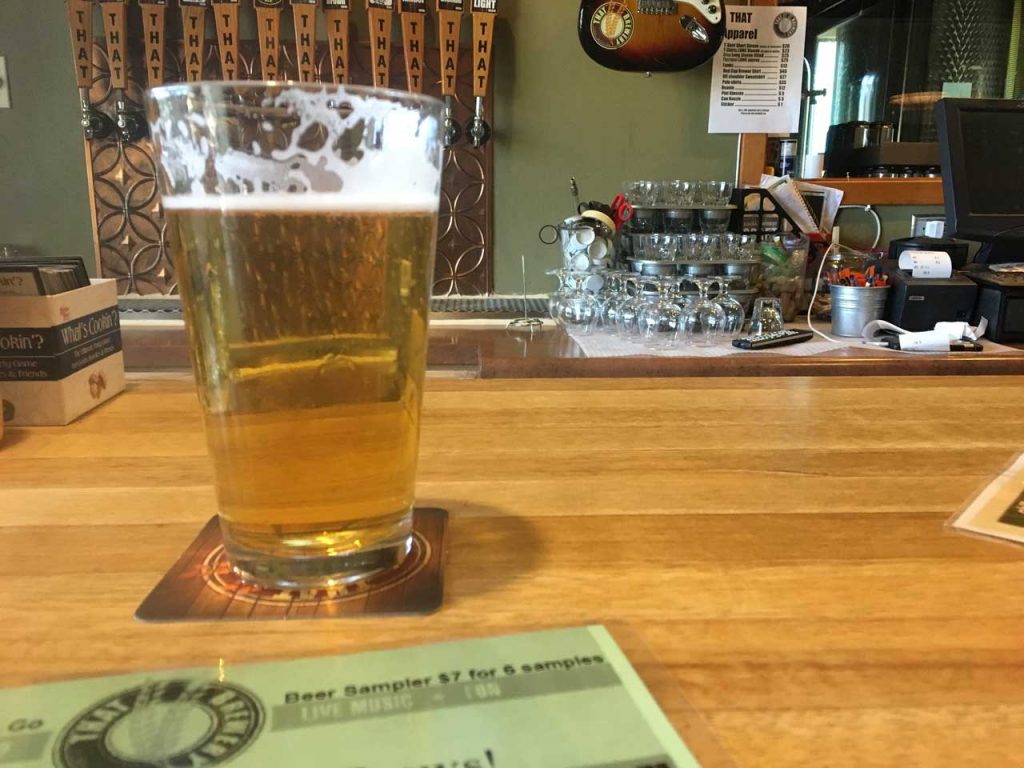 Lunch today was the Southwest Burger… It's a winner, and goes perfect with the Perle.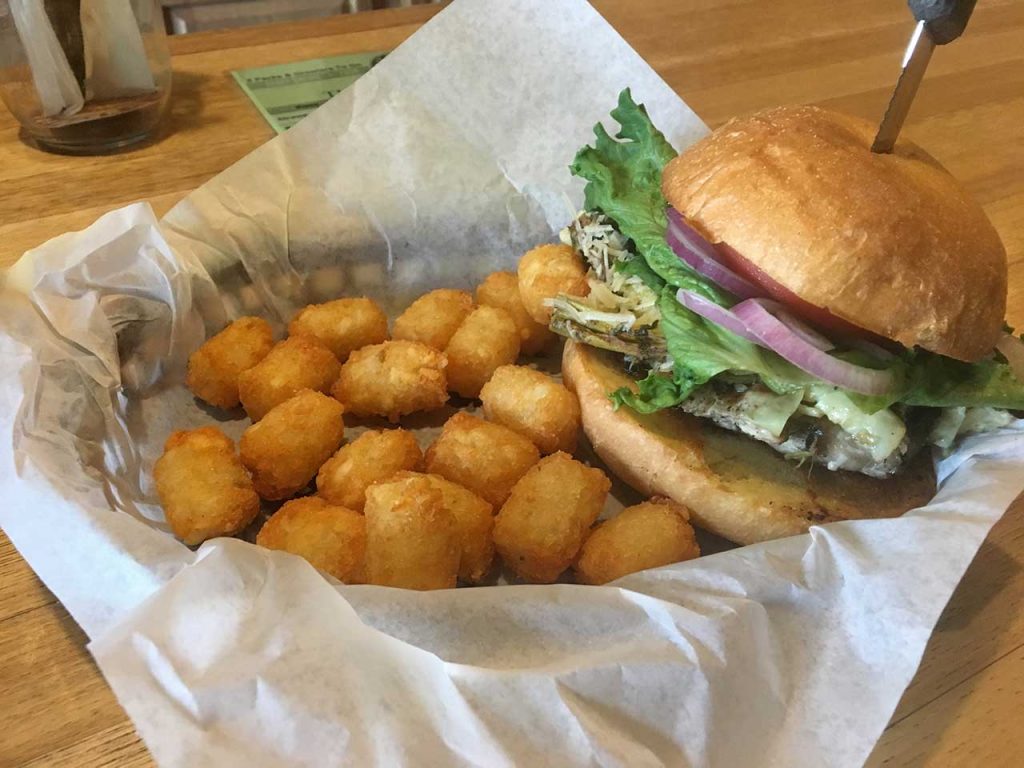 I'm talking that dude down the bar. He is enjoying his second glass of Batch 98 Double IPA, it's his second year living in Pine, and clearly loving it. We're talking about biking the trails and the Fire on the Rim Bike Race.
He's saying you gotta see these photos and opens up his phone pictures.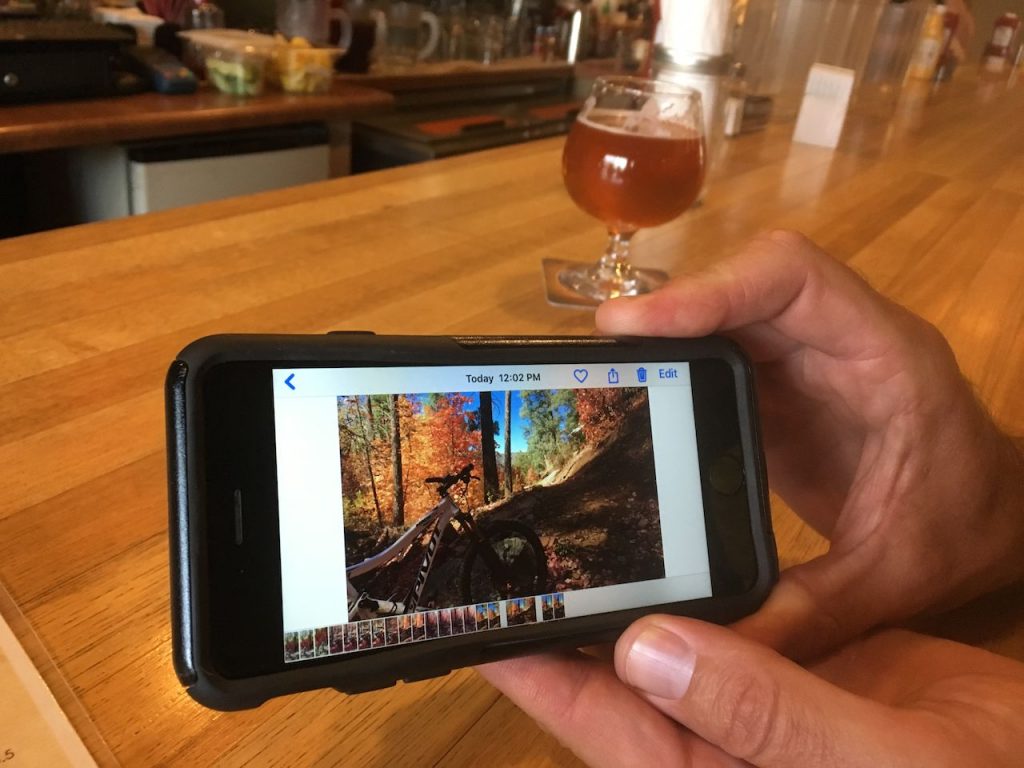 I know exactly the reason to be amazed. Oh yes, the surprising red maples up in the hills. Who ever knows there are red Maple trees in Arizona? I do! I just did a hike last weekend to the top of Strawberry Mountain mainly to see the maples. It's a real surprise to come across those colors in Arizona. There are a lot of pockets you find in the ravines, especially on Trail 15 between Strawberry and Pine.
Last week was unique as THAT co-owners Tamara and Steve took a week long vacation (likely their first week off since opening the brewery 5 years ago, those two work all the time) for a road trip to San Diego.
When asked how it was without them around, a staff member replied (with a smile) "It was so nice…" adding that it was pretty busy last week in Pine with a lot of people Fall break.
Tamara relayed that they enjoyed the beach, trying California beers, going to a whiskey festival. She and Steve actually spent two days out and about without their phones.
Asked how she felt after the trip, Tamara reported, "Totally recharged!"
This is a busier season for Arizona Trail hikers, most this time of year are heading south. THAT Brewery is strategically located just off the trail, and may hikers stay over at the cabins here as well as resupply in Pine. You can learn more about the connection of the Brewery and the Arizona Trail from the webinar Tamara presented recently for Arizona Local First.
Tamara shared some great comments from the log book they keep.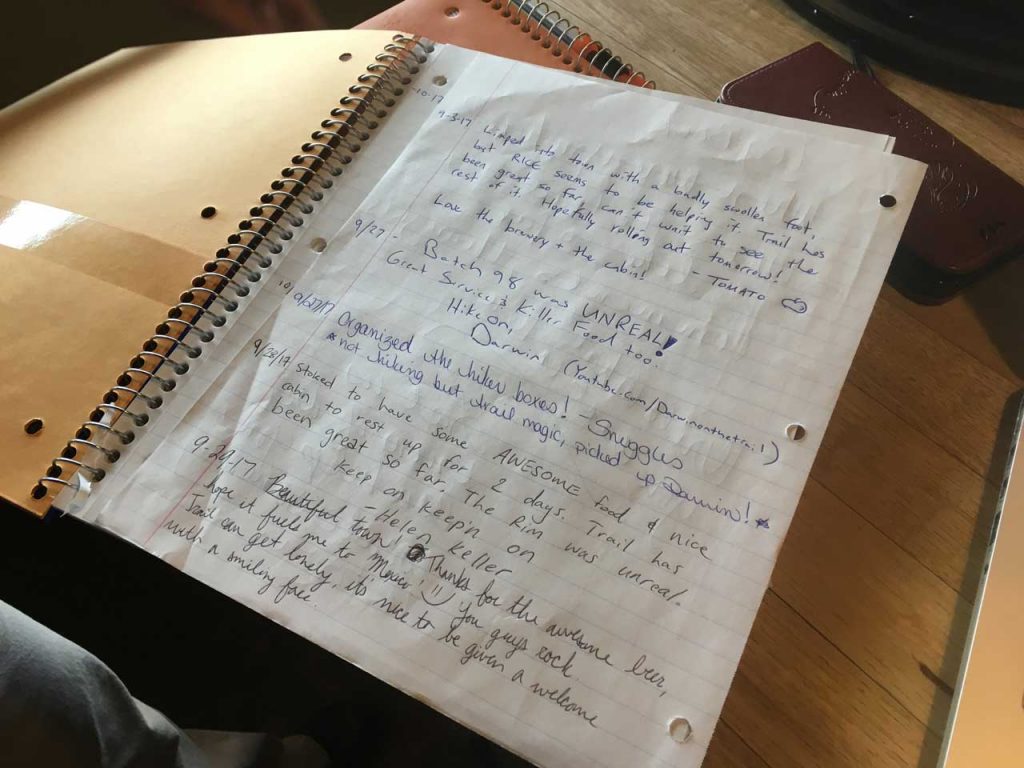 Darwin was a fan too of the Batch 98 IPA– and it's worth checking out his YouTube channel, he's been all over and has a lot of long haul hiking tips.
Besides stories, through hikers also leave art and poetry: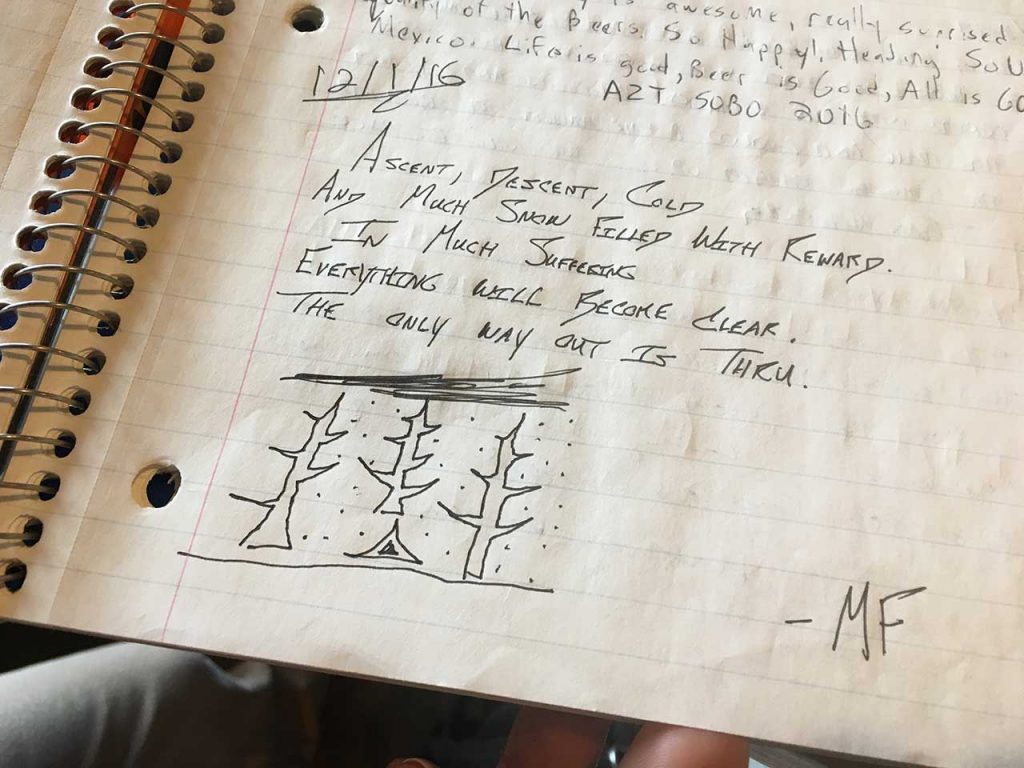 Tamara remembered a guy last season who rode the trail on a unicycle…
Speaking of hikers, I got a chance to talk to an amazing couple who are staying here a bit on a long route of their own design, Brett (Blisterfree) and Melissa (Treehugger) are from Oregon but spend a lot of time planning and finishing their own designed routes. When asked if I could talk to them for this blog post, Brett quickly quipped "We live in the thoughts and dreams of bloggers."
That is rather quotable, eh?
Brett and Melissa have previously done the route stretching across Arizona and new Mexico, The Grand Enchantment Trail.
The trip they are currently on is being called the Mogollon Trail "an encounter with the Rim", that Brett designed. Their route is over 500+ miles, starting in Cottonwood following the Rim to and maybe into New Mexico. The third hiker with them is Sage, a border collie that looks exactly like the one painted on the sign out in front of the Brewery.
At this stop in Pine the are at mile 160, with the next stretch following the Highline Trail and onto a supply drop at Forest Lakes. Planning supply drops is essential. They aim to plan stretches that are 60-80 miles between drops. They said they don't pack all that light, but when Brett said his pack as 10-12 pounds, that sounds pretty light to me.
Brett had first visited Pine back in 2004, when he was one of the early hikers on the Arizona Trail
("Class of 2004!" he boasts with a smile). He loves all that has been added to town since then, not only THAT Brewery, but other restaurants and shops.
Check out Brett's backcountry hiking supply site Simblissity.net and Melissa's hiking blog (which has great recipes!)
That's all the news this Friday from the blogging perch at the bar.