What's on tap at THAT Brewery?
Well, beer of course. We are a brewery after all, But a lot has been going in, so here is a big pour of updates. And it's been so long since we published something, this is our catch-up attempt. We hope to rev up soon too our podcast series with Tamara and Steve.
Probably the best way to stay up to date, besides following us on social media, is to sign up for our Brews Bulletin email newsletter. We recently added an archive page so you can read past issues of the newsletter.
Now, onto the updates!
In August we were part of a great spread in the Arizona Summer Beer Guide of Phoenix Magazine.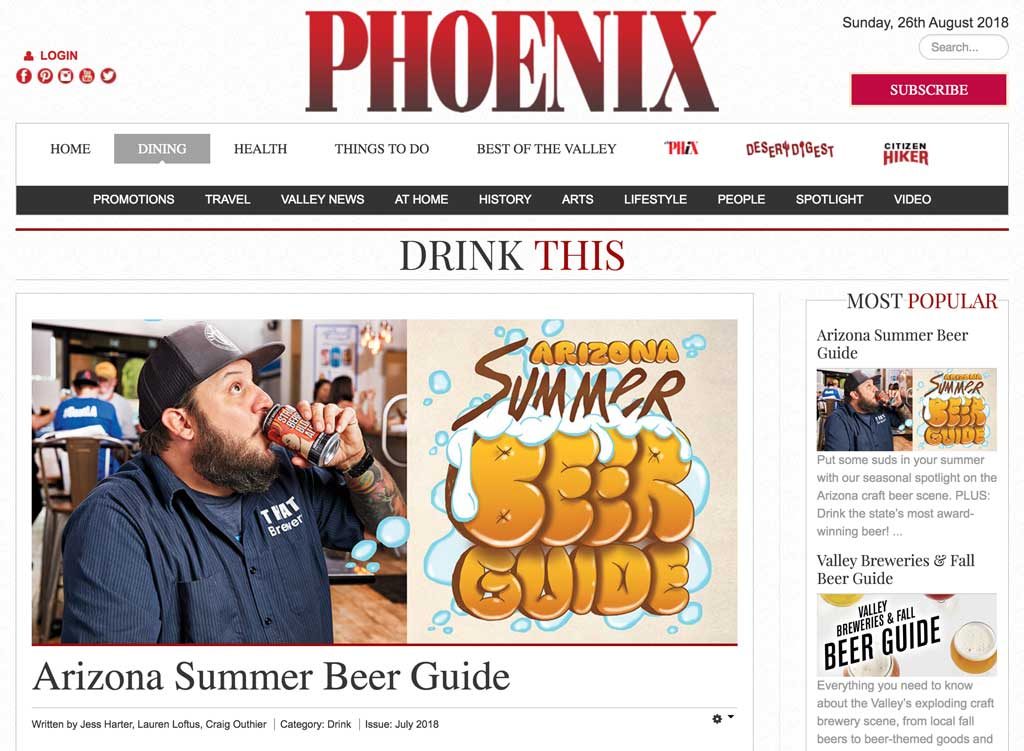 Not only is out Head Brewer John featured in the top image, there is a fabulous interview section with John's merging of his experience in wine making to brewing beer for us. Plus THAT Brewery's Wild Wild Strawberry is featured as one of the top 10 seasonal beers and the Fossil Creek IPA is among the top five Session IPAs.
In other news, we have recently been featured on a Cooking Channel episode with the Taco Guild in Phoenix and the episode mentioned our Arizona Trail Ale.
Also in TV coverage, Channel 12 news came to THAT Brewery and Pub Pine on August 15 to spend some time in our kitchen with Chef Val. They were here to learn how she makes our delicious beer cheese (which features as a key ingredient  THAT Strawberry Blonde). This should be airing on Everywhere A to Z (part of a special feature on the Rim Country).
The big news this year in out beers is blue.. that's the packaging for the newest beers in THAT's inventory available in cans, our Fossil Creek IPA.
This beer is low alcohol and we are coining it as an "Arizona IPA", which is packed full of citrus flavors and light enough to enjoy in the hot Arizona sun year around. Our packaging is cloned after the beautiful aqua blues of the fossil creek itself and is available in kegs, cans and a new 15 pack box.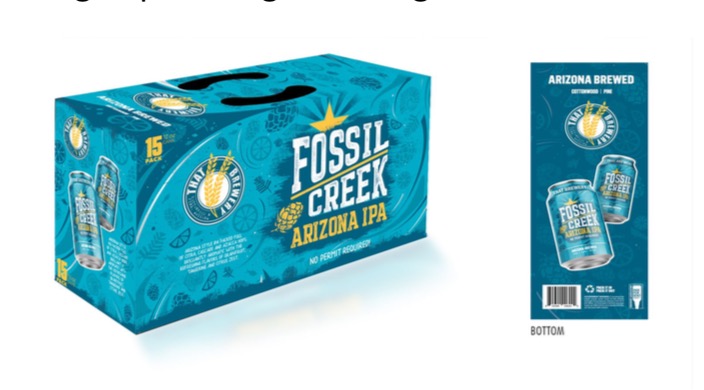 These cans hit the shelves in June and have been very well received.  We are hoping to make it available soon in Sprouts, Safeway, Total Wine and Fry's along with Sam's Club in Bullhead City which is carrying our Strawberry Blonde and Arizona Trail Ale with much success.
We finally got in the Spring/Summer sets with in 30 Safeway stores throughout Arizona. We are also in Total Wine, BevMo, Whole Foods, many Fry's and Sprouts picked us up in every location throughout AZ this month. Also in the works is a plan to distribute through Costco  a multi-pack case with all 4 of our products in cans.And we got notice last week that we will be in 19 more Fry's starting September 17th with cans of Strawberry Blonde.
More news at the Cottonwood Brewing facility that is literally big- we now have our own grain silo. We got grain!
THAT Brewery is involved in many local activities, especially as a title sponsor for the Fire on the Rim Mountain Bike Race that took place September 15. There were more registered racers than ever before (this being the seventh year of the event); registration had never topped 300 and this year there were over 360 racers.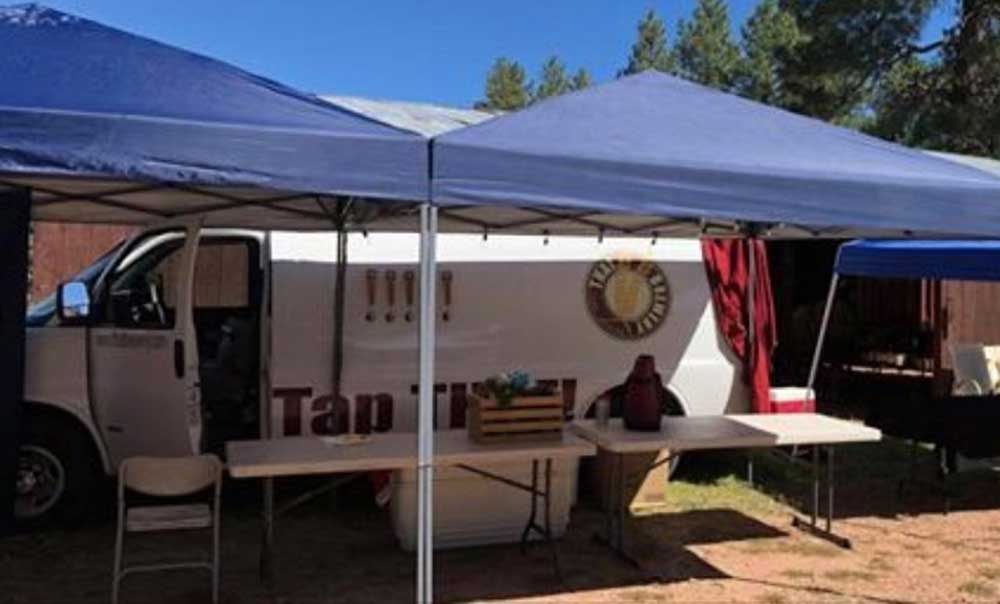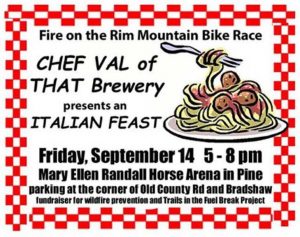 THAT Brewery was present all weekend in the venue pouring brews in the Beer Garden. And like last year, our Chef Val served the popular Friday night Italian Feast for both racers, family, and the community.
We are always proud to be part of the Fire on the Rim event which is already scheduled for the next one on September 14, 2019. Keep your eye on the web site https://www.fireontherim.com/ for the latest details. And between now and then get your bike out on our expanding network of local trails, all of which are supported by funds raised at the bike race.
We are proud to say in 2017 we donated to various charities – some examples are Pine Strawberry Fuels Reduction, Isabelle Hunt Memorial Library, Humane Society (various chapters), PAW Placement of Northern Az, Pine Tractor Club, Strawberry Patchers, Az Craft Brewers Guild, One for the Verde, Az Trails Association, Sun Sounds, Rim Country Chamber of Commerce, Sedona Rotary Club, Out of Africa, Friends of Tonto Natural Bridge, Southwest Autism, Yavapai Big Brothers Big Sisters, Gesher Disability Resources, Tilted Earth, Montessori, and many more!
Bring yourselves and friends to our locations in Pine or Cottonwood to enjoy THAT at it's best. We have a lot of new brews coming out– there is rumor of a barrel aged dirty Verde IPA for release in December.
Look for more updates soon.