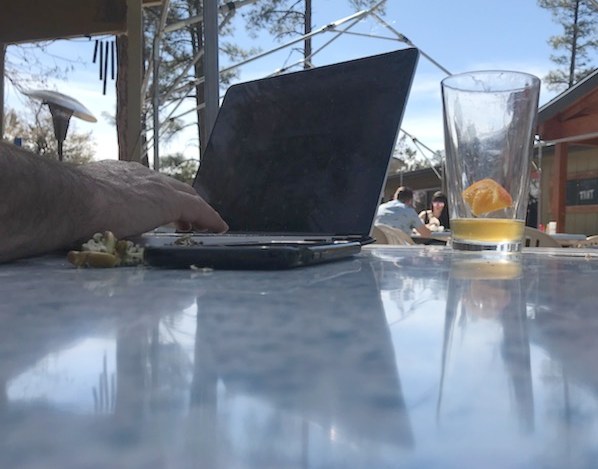 Happy Friday, time for a new THAT Brewery Blogging At the Bar post… except I'm not at the bar. I doubt anyone was looking for me.
No, with this warm stretch of April, it seemed right to be out on the patio, under that warm (but not yet hot) Arizona sun. The other reason, the more important one, is that my fiance is visiting from a chilly chilly part of Canada. Cori should get as much of this sun as possible!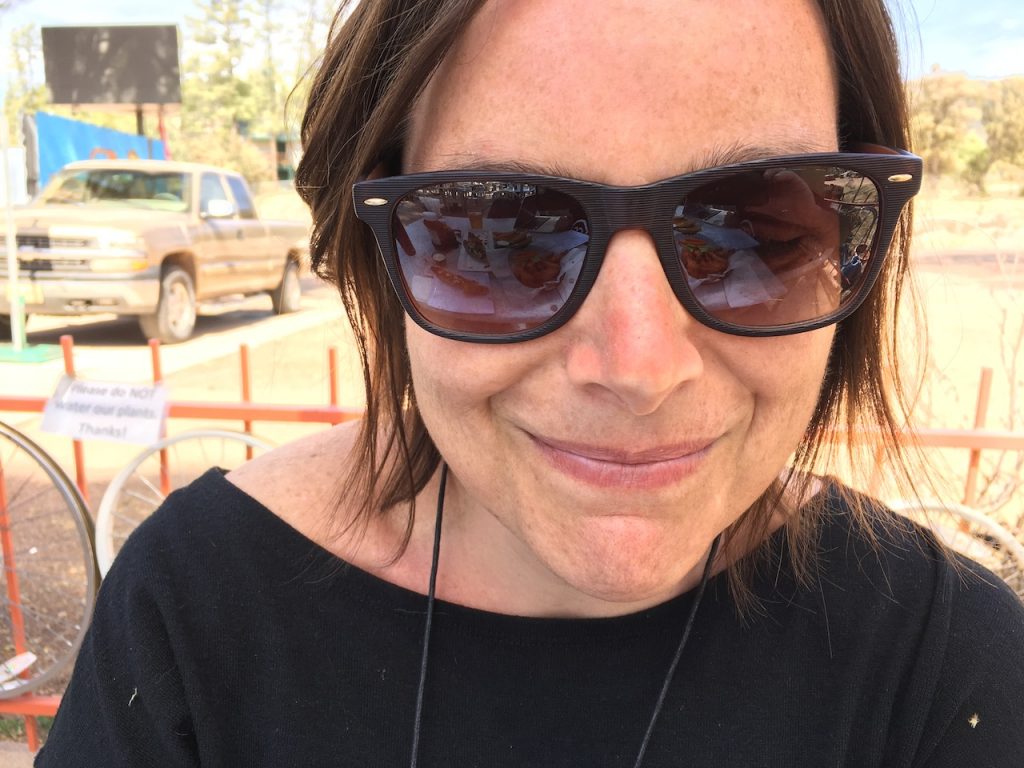 That's her photo on this post, we both love photography. Quite often her photos are better than mine.
We see a steady stream of couples and friends come and go for a friday afternoon lunch (the fish basket is always a good option if you are undecided on the menu options). Overheard from two gents leaving we heard, "This place was cool, I was surprised, there was a lot of great little spaces to enjoy." Ka-ching, two more happy customers.
This afternoon there is a soft breeze blowing through the pine trees, that kind of breeze that is very cooling this time of year, the one we yearn for as June bakes up. All breezes are ones worth feeling here on the patio at THAT brewery.
It also is raining pods from the poplar tree behind the gazebo.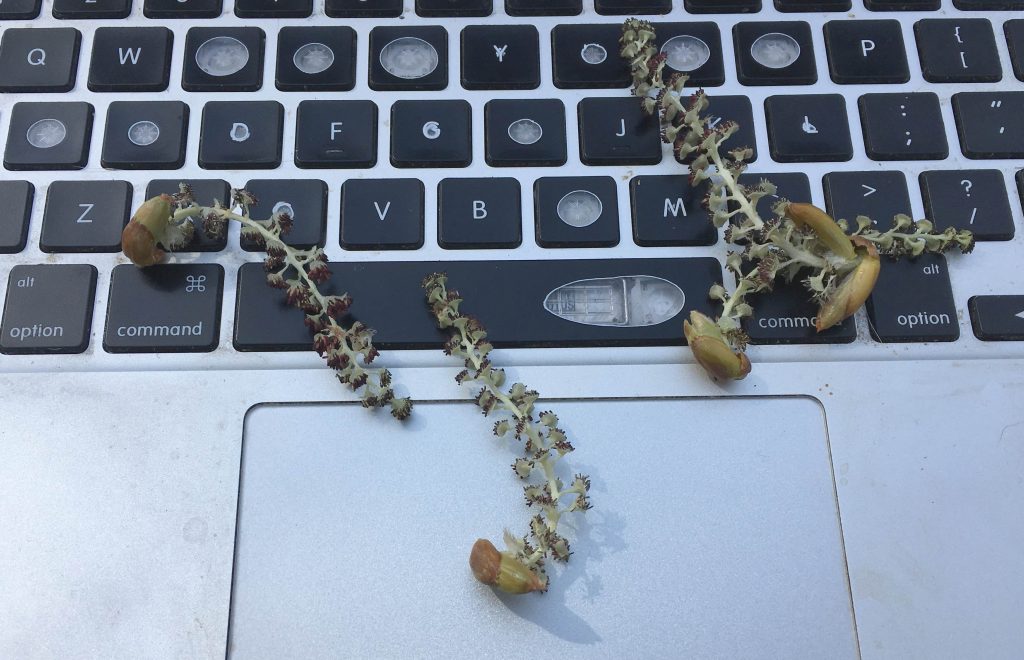 Kelly apologizes and says they will get the canopy back up soon over the patio. She comes around putting extra coasters over the drinks (we don't mind at all).
Speaking of drinks, my glass today is featuring the Franz Gruber Hefeweizen, a relatively new addition to THAT fleet of beers:
It's quite refreshing with the expected tang of citrus, a throw back to the fading fall season.
And speaking of photos, I've been adding a new feature to each of the pages for THAT brews; a small photo gallery for each kind of beer; for example on the Arizona Trail Ale page.
Most of the pictures so far come from ones people share by tagging instagram photos with #sawthatbeer. But I am working on adding a "Brewtography" page to the site with a form where photographers can upload more pictures of THAT beer. What could possible be better than drinking THAT beer that sharing photos of THAT beer?
For our lunch today we went all appies, with an order of one of my new favorite features on the Pine Pub menu, the bruschetta, along with twelve wings, hot style, always reliable, and an order of fried pickle spears.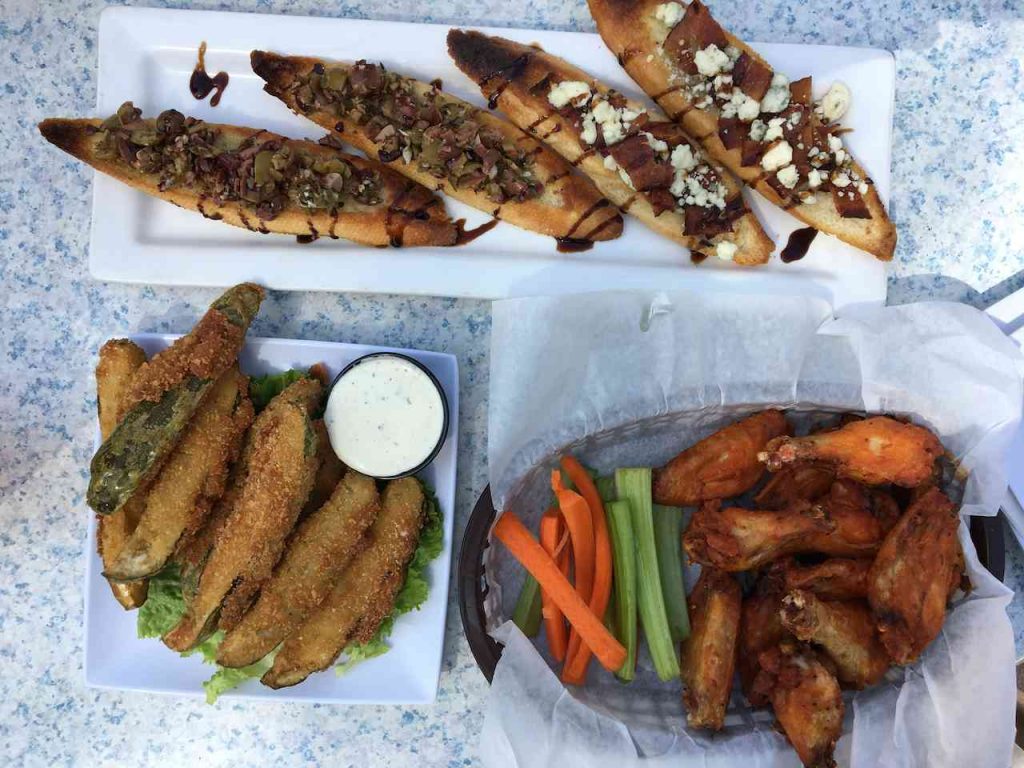 I insist all visitors I bring here try the pickle spears. Cori describes them as "tangy and surprising." My official opinion is "yum". My dog agrees:
Well that sun is finally emerging from behind the tall pine tree near the patio, and I ought to take Cori on a trail hike. But she's pretty happy with a long lunch out on the patio, a good call on my part to sit outside.
Hope to see you one of these blogging Fridays outside or at the bar; I'm the guy with the laptop open, taking photos of beer and food, and enjoying the scene at THAT Brewery.